Operating an eCommerce store means that you not only have to deal with your customers but also the technical side of your store regularly. You will encounter some problems now and then with your Magento store.
In this article, we will discuss the most common issue that you will encounter in your journey, and i.e., UI/UX (user interface/user experience) issue. It may not look dangerous from the surface, but can drastically reduce your conversion rate.
According to the study, almost 80% of the users will leave a site if they have an unpleasant experience with it. On the flip side, excellent user experience can tremendously enhance your profitability.
Do I need technical skills to revamp my eCommerce store?
The answer to this question is both yes and no. The best bet is to consult Magento expert now and then to know the state of your store. With that said, you do not need to reach out to the Magento developer for every small UI\UX issue.
Anyone can significantly improve their Magento store's user experience without specialized technical skills. The only things that you need are a bit of fundamental knowledge and time. Without further ado, let's take a look at some of the proven ways to supercharge your online retail store's user interface without spending a penny.
Simplify your search function
Value your users' time by helping them find the product without spending a lot of time on your site. To simplify the search function, you should make it visible for users (in both desktop and mobile devices). After that, make your search bar offer suggestions to your users.
Make sure you return some products in return that share some similar characteristics regardless of typos. You should also consider adding auto-suggestion and enough product filters based on category, price, style, etc., but do not overdo it. Here is the tutorial to play around with the search function.
Intuitive Navigation
You must make sure that users can browse all the essential information that they need without much browsing.
Do not make your users do much of the thinking. With that said, you must be aware of information overload. You can also enable the wishlist and show product availability to save your users' time. Here is a tutorial for editing your navigation. Also, follow the link to check out the best Magento sites for you to model.
When you are working on your navigation, you should test your site on various devices like laptops, smartphones, tablets, etc. If you cannot do much with your current themes, you should check out the Magento marketplace for premium themes.
Page Load time
I cannot stress how important page load time is for conversion. The data below will speak for itself.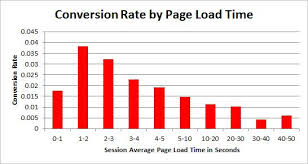 Some of the things you can do to improve your page load time are:
Delete Magento logs
Uninstall badly optimized plugins
Enable caching
Here is a complete tutorial for you to improve your page load time. Get in touch with Magento web developer if you are having trouble with optimizing your page load time.
Display products effectively
All the crucial information about the products must be there in your product description. Also, give them the option to zoom the product and view it from various angles. Online shoppers do not have a privilege to touch and feel the product. Use high-quality product images and do not leave out trust badges.
Personalized shopping
Tailor your product recommendations and offers based on users' browsing habits. Thankfully, you do not need to do some heavy coding for essential personalization. Here is an article that goes deep into customization. You will experience a significant rise in a conversion rate if you take time to tailor user experience.
Here is a fun fact that will make you want to personalize more.
Instead of trying to get new customers all the time, try improving the user experience of your existing users.
Simplify your checkout page
There are two things you can quickly do to give a pleasing checkout experience to your users.
Do not make your customers fill out unnecessary information while making a purchase.
Do not force your users to sign up before making a purchase.
Enable auto-fill to take away the task of filling up the form for users.
Wrapping it Up
You must review your site at least once in a month for ensuring a pleasing user experience. You can do it on your own or hire a Magento developer for monthly maintenance of the site.
After making changes in your site, you will gradually see an improvement in your sales, assuming you are selling good-quality products. I hope you've found my tips useful and practical. What tips are you thinking of applying at first? Do let us know by leaving a comment.